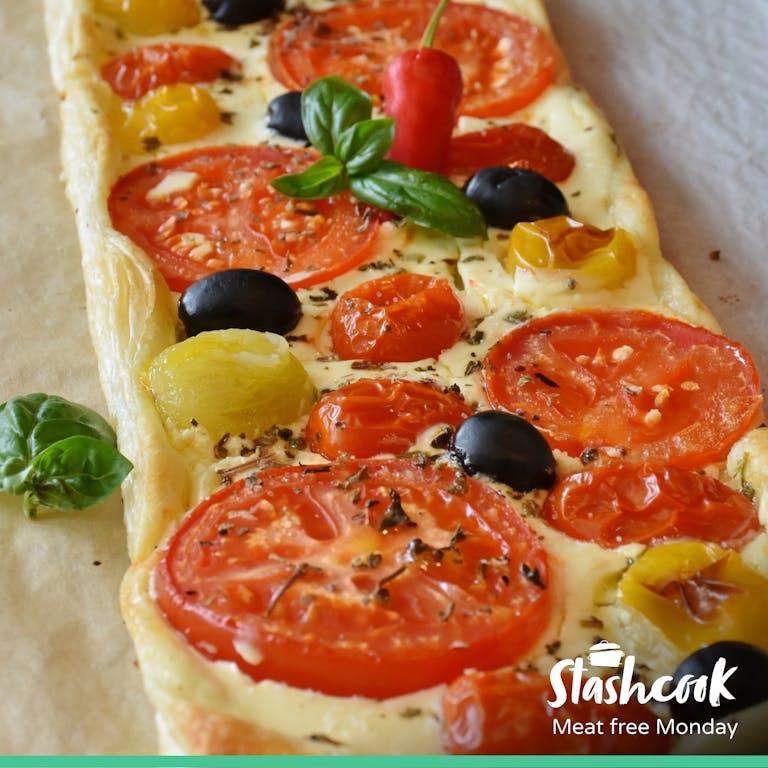 Veggie Puff Pastry Pizza
Servings: 4
Total time: 35m
Calories: 633 kcals
Create own virtual cookbook. Download Stashcook for FREE to enable screen lock, nutritional analysis, change serving sizes and much more.
Already have the app?
Ingredients
250 g puff pastry, rolled
150 g cherry tomatoes (yellow or red)
pinch oregano, basil and thyme
Method
Preheat the over to 180-200C
Place greaseproof paper on a baking tray and roll the puff pastry out on top. Be sure to leave a small gap at the edges. Then lightly score the edges of the pastry with a sharp knife.
Next, use a fork to pierce the rest of the pastry to help prevent it rising too much.
Using the tomato puree spread it around the pastry adding a pinch of oregano and salt
Slice the mozzarella into thin slices and place on top of the puree
Chop the tomato, mushroom, pepper, onions and olives into roughly equal sizes. This helps them cook at the same rate. Then randomly add them on base.
Cut the cherry tomatoes in half and lay on the vegetables.
Sprinkle with thyme and dried basil and drizzle the vegetables with olive oil.
Cook in the oven for 20-25 mins.