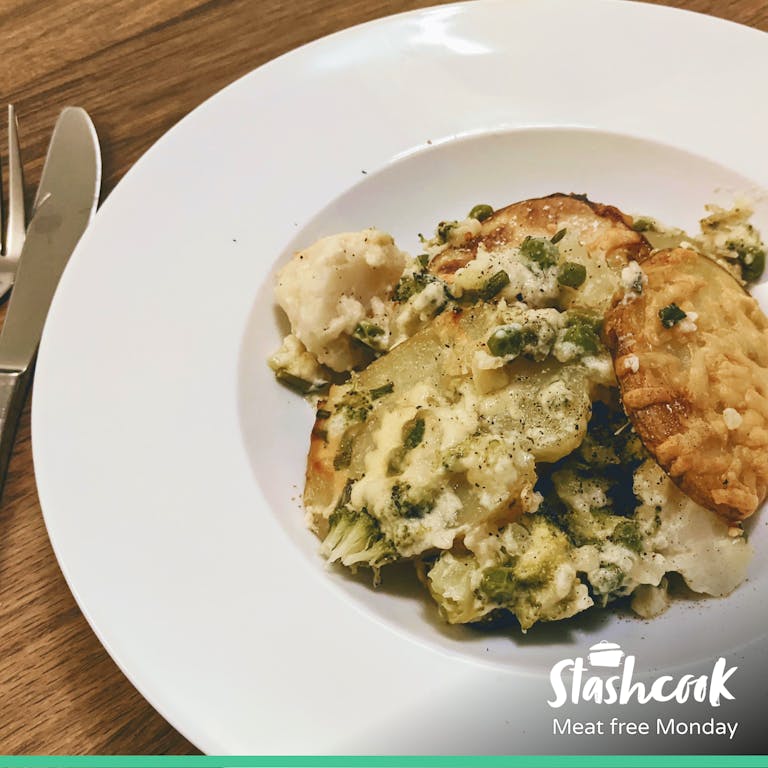 Easy-peasy Veggie Pie
Servings: 4
Total time: 40m
Calories: 610 kcals
Create own virtual cookbook. Download Stashcook for FREE to enable screen lock, nutritional analysis, change serving sizes and much more.
Already have the app?
Ingredients
1 broccoli, cut into chunks
1 cauliflower, cut into chunks
200g mature cheddar, grated
Method
Pre-heat the oven to 220C / fan 200C / gas 7. Slice the potatoes into rounds. Cut the broccoli and cauliflower into small florets.
Melt the butter making sure it doesn't burn, then add the flour and mustard powder. Stir for 1 minute.
Gradually stir in the milk until it makes a creamy sauce with no lumps.
Whilst making the sauce, boil a pan of water. Cook the potatoes for 5 minutes, then add the broccoli and cauliflower for an extra 5 minutes. Finally, add the peas.
Take everything off the heat. Drain the veg and add most of the cheese to the creamy sauce, leaving some for the top.
Place the remaining veg in a deep dish, add the sauce and snip in the chives. Mix it all together.
Layer the sliced potatoes on top and sprinkle the remaining cheese.
Bake for 20-25 minutes until the top is crisp.